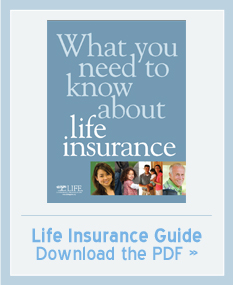 How to get life insurance: Buying life insurance is like buying anything else. Shopping around, talking to friends, and learning more can help you get the best product. Here's how you can find the company and deal that are right for you:

1. Talk to people you trust: Find out who has had good (and bad) experiences with their insurance companies and agents. It's a good sign if someone is very happy with their insurance agent. You may want to use that agent as well. But keep in mind that your situation may be different. Find out what to look for when choosing an insurance agent.

2. Get online quotes and comparison shop: There are a number of services on the Internet that act as "insurance marketplaces" and some only take a few minutes to give you quotes. Here's how they work:


You fill out information about your health and income.
They analyze your information with their insurance company partners.
They give you a list of their partner companies that will offer you the best deals.
3. Go with a company you know and trust: If you don't want to take the time to compare prices from different companies, you may want to just go with a company you already know and trust. Large companies are a good place to start because their visibility helps ensure that they are stable and provide reasonable customer service. Get recommendations.

4. Remember that price is important but so is security: This is especially important for life insurance. If your insurance company goes out of business, you're out of luck. And buying life insurance is much more expensive as you get older. So make sure whatever company you choose is trustworthy and in good financial shape. You can learn how secure they are by checking their Standard & Poor Rating (to be safe, go with a company that is rated "A," "AA," or "AAA").

What those letters mean:


AAA - Extremely Strong
AA - Very Strong
A - Strong
BBB - Good
BB - Marginal
B - Weak
CCC - Very Weak
CC - Extremely Weak
R - Regulatory Action
NR - Not Rated
More about insurance ratings:

Five major ratings firms issue financial strength ratings for insurance companies: Standard & Poor's, Fitch Ratings, A.M. Best, Moody's Investors Service and Weiss Ratings. A company's rating is a barometer of its ability to pay a claim down the road. A high rating indicates the company has plenty of assets and reserves available to pay claims. Since life insurance claims are usually made many years after you purchase the policy, it's important to keep an eye on your company's financial strength. Any number of factors can influence a rating. If a company makes some bad financial decisions and begins losing money, the rating could drop. Mergers . or even the news of a merger . can influence ratings.

5. Learn even more: The more you know about life insurance, the better prepared you will be to make the right decisions. So while this is a great place to start, there are other sites that can offer you additional information.

The Life Foundation has lots of great information on everything from the basics of life insurance to calculating your needs. For legal information on issues like whether you can cancel a policy without penalty or who you can make abeneficiary, visit FreeAdvice.com, which has lots of useful legal information around insurance issues.



Helpful Resources & Links

Glossary of Insurance Terms
Helpful Life Insurance Questions
To File a Complaint or a fraud report